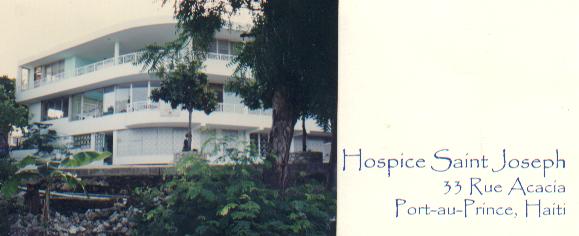 Hospice St. Joseph opened on October 1, 1989. Our mission is to provide an environment in which the presence of Jesus and his loving care can be experienced by all who come through our doors.
Our Guest/Retreat House offers a clean, safe, and welcoming atmosphere for our visitors. If requested, resident staff will seek out service opportunities for guests. These may range from a chance to put to use a medical background or carpentry skills, to being willing to rock an abandoned child to sleep. A stay at Hospice is sure to make newcomers aware of what life in Haiti truly entails.
Each Sunday our guests may participate in a Haitian liturgical experience, if they wish. Meals are typical Haitian fare. We extend hospitality to all visitors who come seeking a third-world experience, which includes volunteering where service is needed. Hospice is offering an 8-9 day group experience that includes speakers, trips to cultural and historic sites, journaling and encounters with the Haitian people. This provides an opportunity to get in touch with the richness of Haitian culture and the Haitian people.
Fees for a stay at Hospice are $25.00 per night, per person, which includes breakfast and the evening meal. Accommodations are limited to 18 people. Airport pickup and dropoff is provided. Cars are available for rent in Port-au-Prince.
Hospice St. Joseph operates under the auspices of the Diocese of Norwich and through the contributions of the Sisters of St. Joseph of Tipton, Indiana and the Lafayette Diocese, Indiana. Programs are supported by private (tax deductible) contributions. A discretionary fund is used for unexpected crises: funerals, fires, and catastrophes such as hurricanes.
Health Care for the Poor through the Hospice Clinic
Our clinic, open afternoons each Monday through Friday, provides medical consultation and medicines. We assist people needing surgery or hospitalisation. We aid in processing patients who require advanced surgery or medical treatment in the U.S. We also provide room and board for the sick who need to come into the city for medical care.
Financial assistance is needed and greatly appreciated to help cover doctor, hospital, and transportation expenses (see our donations page). Sample medicines are welcome, but please note that Haitian Customs will not accept expired medicines.
The Clinic is staffed by Haitian doctors who are committed to our cause and receive only a modest stipend.
Food Program for Malnourished Children
While we receive some help from the World Food Program (Programme Alimentaire Mondiale, PAM) and Food for the Poor (FFP), many young mothers who are not in the program need help with special formulas and food. We supply them with their nutritional needs.
School Sponsorship
Many foreign friends sponsor education for elementary and high school pupils. Cost per year to open the door to a better life for a Haitian young person is:
Elementary .......... $300 (U.S. Currency)
High School ......... $450 (U.S. Currency)
If you wish, you may pay for a school sponsorship monthly or quarterly. Those unable to sponsor a student on a yearly or monthly basis may wish to make a contribution to the Education Fund.
Small Commerce Program for Women
Haitians are resourceful, hard-working people; most would rather be given a hand up than a handout. Our program helps women to help themselves. We need donations for small business education and revolving loans.
Work with Haitian Human Rights Groups
Haiti is a land of massive poverty, malnutrition, disease, illiteracy, unemployment, and environmental change. Historically plagued by military coups and police oppression, Haitians are now engaged in a desperate struggle for democracy. A people of enormous endurance and hope, as well as deep practical faith, Haitians count on the prayers and the help of others.
Since its founding, the staff at Hospice St. Joseph has been dedicated to walking in solidarity with the poor. We endeavour to call the attention of visitors to the many injustices put on the backs of the Haitian people, while encouraging our guests, who will return to their own countries, to help us work toward alleviating these injustices.
Newsletter
If you would like to receive a copy of our regular newsletter, please e-mail us. Past newsletters are also available on this site:
| Fall 2001 |
To Assist with Our Ministries
Please follow the link to our donations page.
---
Contact Information
Mailing Address:
Hospice St. Joseph
c/o Lynx Air
P.O. Box 407139
Fort Lauderdale, Florida 33340
U.S.A.
E-mail: hsjpap@haitiworld.com
For more information, or for reservations at Hospice St. Joseph,
write us at the address given above. You may also e-mail us or call us
in Port-au-Prince at: 011-509-245-6177

A $25 non-refundable deposit is required for each person.
Make reservations as far ahead as possible.
---
The HSJ team consists of three different religious congregations:
Sister Ellen Flynn, RSM, Director
Sister Kay Coll, SSJ
Sister Maureen Lewis, SND de Namur
Sister Mary Alban Bouchard, CSJ, part-time
---

Lonely Planet's Dominican Republic & Haiti guidebook says:
"Perched high above the busy street of Christ Roi, Hospice St. Joseph
... commands perhaps one of the most stunning views of Port-au-Prince. The rooms
are sweet and clean, and all have fans, bathrooms and balconies overlooking the city
and the bay. The cost of US$25 per person includes breakfast and an evening meal of
Haitian cuisine, primarily vegetarian. In addition to functioning as a guest house,
the hospice supports local health care and food/human rights/education programs in
the area, and thus it attracts many justice and human-rights groups. The atmosphere
is very relaxed ..."
---
Web page designed by
One Smart Cookie Web Productions, Ltd.
Number of visitors to this page
since January 12, 2002: